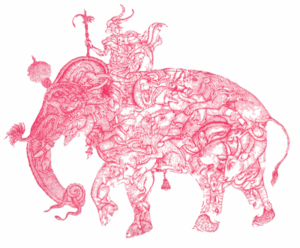 The band Vox Populi! was created at the begining of the 80's in Paris by Axel Kyrou. Together with his friend Pierre Jolivet (aka Pacific 231), he created VP231, an independant music label. In 1983, 7" 'Ectoplasmie' has been edited. At first his music registers in a synthetic, cold and minimal vein, representative of this period. But, after he mets vocalist Mitra (his future wife) and her brother Arash (percussions), coming from Iran, Vox Populi! gets a very unique tint, melting post-industrial, psychedelic and ethnic colorations. During the 90's Vox Populi! had a rest, but have been reactivated on the second half of the 2000. Some bloggers consider Vox Populi! as the "France's best kept secrets".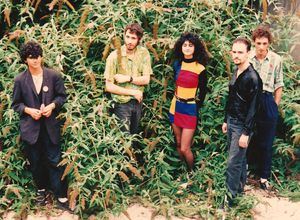 < Vox Populi! in 1987. From l. to r. : Arash, Axel Kyrou (Gnouf tap), Mitra, Pierre Jolivet (Pacific 231), Francis Man (Fr6 Man)
On request from Axel I've released a "best of Vox Populi!" I have to say, it had been a great pleasure to reassemble all my favourite VP! songs. It's my "best of", of course, all these tracks are the reason why I prefer the band Vox Populi! than any other. In all his kindness he offers 7 others previously unreleased tracks gathered at the end of the comp under the name "Ethnyc".
My selection :
01 Razaye Axel Jub Hast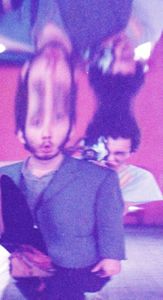 02 Grande Plante Fibreuse [Live Paris 1988]
03 Totem [Live Paris 1988]
04 Joue Joue
05 Nymphea
06 Sirene [Live Paris 1988]
07 Operation Banquise
08 Narme Air
09 3 Gouttes de Sang
10 Herrvoragende
11 Atal Matal Toutoule
12 Yarom Lalou
13 Jube man
14 Pellucidar
15 Fassle [Live Ravensburg 1987]
16 Tchi Tchi Vox [Live Paris 1988]


#1 from V/A Passionnément, VISA, CD, 1992
#2, 8 & 10 from Aither, VISA, LP, 1989
#3, 4, 6 & 16 from s/t, Creations Alternatives, Cassette, 1988
#5 from Cthulhu Revisitation, Monochrome Vision, CD, 2007
#7 from V/A Ritual Dos Sadicos Vol.II, VP231, LP, 1985
#9 from Myscitismes, VP231, LP, 1984
#11, 12 & 14 from Sucre de Pastèque, Unlikely Rec., Cassette, 1986
#13 from V/A Bande Originale d'un Film Imaginaire, On A Faim!, Cassette, 1988
#15 from Half Dead Ganja Music, Cthulhu, Cassette, 1987
Recorded and produced at Vox Man Home studio, Paris, between 1984 and 1990 by Axel Kyrou.
Credits :
Axel Kyrou : synth, loops, tapes, rythm box and small instruments.
Arash Khalatbari : percussions, voice and small instruments.
Mitra Kyrou-Khalatbari : Voice, acoustic guitar and small instruments.
Fr6 Man : Bass, guitar and organ.
With :
Laurent Perrier (Nox) : Trumpet on #2, guitar on #16
Alain Juteau (Kni Crik) : Saxophone on #3
Nicolas Minescu (Kosa) : Guitar on #3 and #6
Pierre Jolivet (Pacific 231) : Voice on #5, Cornet on #15
Boback : ney on #1
Les Plantes : saxophone on #8 and #10


Bonus : 'Ethnyc' (7 previously unreleased tracks)
17 Ankaboot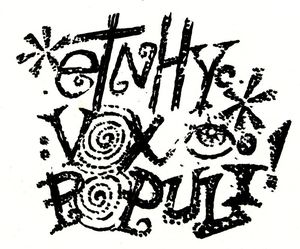 18 Extreme blues
19 Kava Kava's inner drive
20 Nazareman
21 Persian cabaret
22 Sunshine boy
23 We walk so easily and swim across the sky
Recorded between 1985 and 1993, mostly at Vox Man studio, Paris.
Music by Axel Kyrou except 'Ankaboot' by Fr6 Man, 'Persian Cabaret' by Axel and Gol, and 'Nazareman' by Axel and Dreaming Together.
Singers and musicians : Arash Khalatbari, Mitra Kyrou-Khalatbari, Axel Kyrou, Chester Harlan, Fr6 Man, Kyoshi Maejima, Mehdi Haddab, Gol, Dreaming Together.


DOWNLOAD Feedbacks and comments welcomed.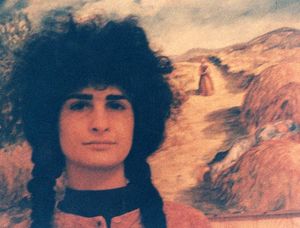 For french readers here are two extracts from an interview with Mitra and Axel for french magazine Traverses #30 :
VOX POPULI !, c'est un plaisir, un hobby, une expression du corps, de la tête ? Un peu tout ça ?
Mitra :Oui, c'est l'expression de notre âme, du corps, de l'esprit, de notre sensibilité, c'est un grand plaisir.
Axel : Puisque le mental intervient assez peu, je peux facilement me retrouver extérieur à ma propre musique et m'en détacher à postériori facilement pour la découvrir, avec surprise, comme un simple spectateur.
M. : Comme ça n'est pas défini d'avance là où on va, on ne se dit pas à tel moment il faut que le rythme soit plus bas et qu'il se passe ça, rien n'est défini, c'est comme une vraie expérience pour nous, avec ce champ de liberté qu'on s'autorise. Du coup, bien sûr, il y a l'élément surprise qui est tellement précieux dans la vie.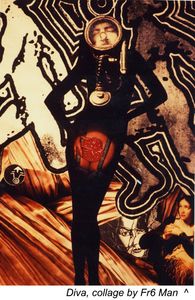 A. : Tu parlais récemment de la nécessité des trouvailles.
M. : C'est vrai, quand il y a des trouvailles dans la vie c'est formidable. Pour ça il faut une très grande liberté, le moins d'obligations possibles pour facilité leurs apparitions.
A. : Une bonne trouvaille c'est un plaisir inégalé.
M. : immense.
A. : Il y a quelque chose aussi de l'ordre de la magie. Le tout doit être supérieur à la somme des éléments séparés. Sinon ça n'a aucun intérêt.
[...]
Si je vous dis Rotorrelief, Visa, Taâlem, Odd Size, Monochrome Vision…

A. : Ce sont tous les labels sur lesquels on a sorti vinyls ou cd's.
… plus tous les autres labels spécialisés cassettes ou compilations
A. : Ca on ne les compte pas, tellement il y en a eu. Nous étions partie intégrée du réseau informel de diffusion des cassettes indépendantes. Nos labels des années 80, VP231 (avec Pacific 231) et Vox Man (avec Fr6 Man), ont sortis des vynils mais aussi pas mal de cassettes compilations, notamment la série à thème Audiologie.
Vu notre assez grande productivité dans les années 80, nous avions suffisamment de titres pour nous permettre un oui permanent aux nombreuses invitations compilation que nous recevions. Nous avons aussi produits des cassettes de Vox Populi! à tirage quasi confidentiel (mais maintenant dispo sur le web) pour un magazine de Bd, 'Imaginaires' (1985) et pour un fanzine 'Créations Alternatives' en 1988. Aussi pour des labels cassettes plus établis comme Cthuluh Records (Allemagne, deux cassettes en 1986 et 1987), Unlikely Records (Angleterre en 1985) ou Cause and Effect (Canada en 1984). Parallèlement, sortaient aussi nos vynils : l'ep 'Ectoplasmies' en 1983, le premier Lp 'Myscitismes' en 1985, 'Aither' Lp en 1989 et 'Face to Face' Lp en 1990 avec HNAS sur la face B.
M. : On n'avait pas envie de dire non. Notre propos est avant tout le partage sans aucun élitisme ou confinement d'aucune sorte.
A. : VOX POPULI! C'est pour le peuple dans le bon sens du terme.
p.s.: All photographies from Axel's archives. Please check my previous Vox Populi! posts to get all the links to download the entire VP! discography.