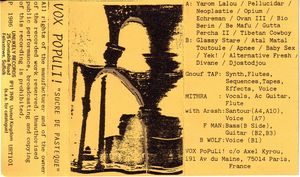 With Axel, we thought that it would be great to share the ultimate official Vox Populi! release still unvailable on the web : "Sucre de Pastèque" (water-melon sugar), produced in 1986 by english cassette label Unlikely Records (URT101) ran by Robert Cox. That's a pretty idea because it's a very very good one, extremely rare and very brillant experimental/ethnic/psychedelic trip that only VP! can do, that's nobody else. A pure delight, the second recording with Mitra. Axel retrieves a tape and remastered it especialy for us, many thanks to him, but he has not the sleeve and don't remember the title names. Nearly at the same time a copy was selled on eBay, I could bought it, so I put off this post in order to present some pics and the tracklist :
Side A : 01-Yarom Lalou 02-Pellucidar 03-Neoplastie 04-Opium 05-Echreman 06-Ovan III 07-Bio Berim 08-Be Mafu 09-Gutta Percha II 10-Tibetan Cowboy
Side B : 11-Glassy Stare 12-Atal Matal Toutoule 13-Apnée 14-Baby Sex 15-Yek! 16-Alternative Fresh 17-Divane 18-Djostodjou
At the time of this recording, VP! was : Gnouf TAP, MITHRA, Arash, F MAN and B WOLF.
And now, Ladies and Gentlemen, I'm very proud to present you the complete list of VP! recordings :

Past :
Introduction À La Théorie De La Subjectivité Relative 1982
Ectoplasmies [7"] 1983
Imaginaires [Cassette] 1984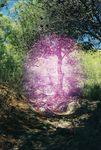 Myscitismes [LP] 1984
Sucre de Pastèque [cassette] 1986
La Cathédrale Morte [Cassette] 1985
Ebats Spirituels [Cassette] 1986
Half Dead Ganja Music [Cassette] 1987
Untitled [Cassette] - "Creations Alternatives" 1988
Aither [LP] 1989
Face To Face Vol. 2 [LP] 1989
Recent :
Cthulhu Revisitation [CD] Buy / free mp3 download
1987-1990 [CD] Buy / free mp3 download
Soft Entrance To Nature's Camino De Luz [Mini CD / FLAC] Buy
Mystic Entertainment [CD] Buy
Aramesh [CD] Buy
Photos by Axel KYROU
Bonus:
Teen Recordings 1979-1981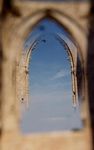 Open skies 2010 (forgotten materials from 1986 & 1990)
Neynarea 2010 (seven previously unreleased tracks from1988 to 1966)
Vox Populi! live in Paris (1988)
Valley of Capsules plays Vox Populi!
To be continued.
Thanks to Nostalgie de la Boue, The Thing on the Doorstep and Atlantis Audio Archives for their previous efforts.