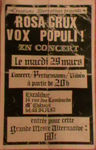 Today I share an extraordinary document, a live recording of VP! Axel offers me this tape last summer, when this blog doesn't exist yet. He told me that nearly all tracks appear on tapes or compilations, but you've never heard an entire live of VP! don't you ? It's all the interest of this recording as a token of what was Vox Populi! on stage in 1988. It's as if you were there, only few cuts. The sound quality is very good, it's recorded directely from the mixing desk outputs, and digitalisation has been checked by Axel himself. They allways ended their shows with an improvisation, tracks #10&11 are some them remixed, it's "bonus". Unfortunatly the first track is cut at its begining.
Axel remembers : "People mainly came for the second band, Rosa Crux (king of gothic french scene). We were dressed in coloured, psychedelic, exotic, the atmosphere was black and cold ... at the beginning only".
At the time of this recording, VP! were :
Axel Kyrou (aka Gnouf Tap) : synth, small instruments, mixing desk
Arach Khalatbari : percussions, small instruments
Mitra Kyrou Khalatbari : Vocals
FR6 Man : Bass
Laurent Perrier (courtesy of Nox) : Guitar, Trumpet
Laurent Pernice (courtesy of Nox) on #8 : percussions, tape

Tracklist : 01.Totem 02.Sirene 03.Tchi Tchi Vox 04.La Grande Plante Fibreuse 05.? 06.Opération Banquise 07.? 08.? 09.Impro 10 & 11 Bonus
Get the complete VP! releases :
Past :
Introduction À La Théorie De La Subjectivité Relative 1982
Ectoplasmies [7"] 1983
Imaginaires [Cassette] 1984
Myscitismes [LP] 1984
Sucre de Pastèque [cassette] 1986
La Cathédrale Morte [Cassette] 1985
Ebats Spirituels [Cassette] 1986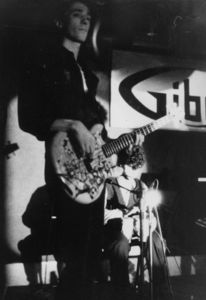 Half Dead Ganja Music [Cassette] 1987
Untitled [Cassette] - "Creations Alternatives" 1988
Aither [LP] 1989
Face To Face Vol. 2 [LP] 1989
Recent :
Cthulhu Revisitation [CD] Buy / free mp3 download
1987-1990 [CD] Buy / free mp3 download
Soft Entrance To Nature's Camino De Luz [Mini CD / FLAC] Buy
Mystic Entertainment [CD] Buy
Aramesh [CD] Buy
Vox Populi! Live at Gibus (Paris)

Bonus:
Teen Recordings 1979-1981
Open skies 2010 (forgotten materials from 1986 & 1990)
Neynarea 2010 (seven previously unreleased tracks from1988 to 1966)
Vox Populi! live in Paris (1988)
Valley of Capsules plays Vox Populi!
Right now a new line up of Vox Populi! is working on a real new album. Axel is a music maniac, he owns the biggest private record collection I've ever seen, very open musicaly, interested in heavy, crazy stuff (such as first Chrome, Meat Beat Manifesto, nowadays Sightings, he enjoys noisy wall of sound ...) as well as more flighty stuff but never commercial stupidity of course. It's this light side of music they work out, the experimental side is reserved to collaboration (w/ Pacific 231 or Valley Of Capsule).
-- All musics and pics come from Axel's achives, thanks to him
-- Link's inspiration : Nostalgie de la Boue