Liner notes : [...] Several musical forms are represented here, some way be found almost everywhere in Africa : a homophonic female choir, singing in responsorial (A.2) or a lament song with sanza accompaniment (A.6). Ohers are more characteristic of East Africa : the musical bow with a resonator and a split string, used with a percussion-rattle (A.5) ; a one-stringed fiddle with an open tubular sound-box (A.4) and above all, the trough-zither (A.1 and B.4). Of all these aspects, the vocal techniques seem to merit particular attention : the songs accompanied by the inanga, performed by men who behave systematically as though they were trying to sing in a loud whisper (A.1) ; the ubuhuha playing of the women, who blow into their cupped hands (A.3) ; the yodelling of young girl (B.2 and 3).
Recordings and photographies by Michel Vuylsteke.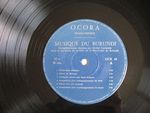 Side A : 1 Song with inanga accompaniment recorded on 25 May 1967 near Bujumbura
2 Female chorus recorded on 27 May 1967 near Bujumbura
3 Ubuhuha recorded on 1st June 1967 at Ngozi
4 Lament recorded on 24 May 1967 near Bujumbura
5 Song with musical bow accompaniment recorded on 1st June 1967 at Ngozi
6 Song with sanza accompaniment recorded 26 May 1967 near Bujumbura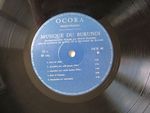 Side B : 1 Flute solo recorded 11 June 1967 at bugarama
2 Akazehe recorded 9 June 1967 near Bujumbura
3 Akazehe recorded 1st June 1967 at Kayanza
4 Zither solo recorded 25 May 1967 near Bujumbura
5 Ensemble of drums recorded 31st May 1967 at Bukirasazi
DOWNLOAD The rip contains 256 kbps mp3's + high definition photos of the booklet with texts in french and english.
#A1[...]This whispering song with inanga or trough-zither accompaniment is a typical form of Burundi music.
The vocal thechnique, wich might be described as "whispered singing" is used systematically in this category of song sung by one man, accompanying himselfd on the inanga. It is not, as one might be led to believe in listening to this track, restricted to one isolated singer whose voice might be tired, or who has a highly personal style of singing : over 40 examples (recorded by other people as well as myself) from various regions of Burundi and involving singers of widely different ages, furnish proof of this. According to some informants (notably the musicians thelselves) this manner of singing enables them to obtain a good balance between the voice and the inanga.[...]