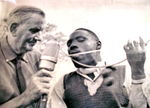 Let me introduce you Hugh Tracey. He is one of the pioneers of ethnomusicology, he starts recording in the 50' in Africa. He has created and directed the International Library of African Music (ILAM) now located in Zimbabwe. His recordings are edited in a collaboration between ILAM and SWP records (great website - cd's are rather cheap), and this comp is a good starting-point to discover the serie.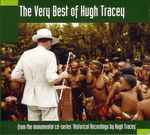 Liner note : "Englishman Hugh Tracey (1903-1977) dedicated his life to recording African music. In an era that no one else took African music seriously at all, Hugh Tracey crisscrossed central, eastern and southern Africa recording what he found. He foresaw that much of the music would disapear through urbanisation and outside influences. In so many cases we are lucky to have his recordings of so much amazing music - no one else recorded it. His archive constitutes the musical memory of half a continent. And, as well as being one of the pioneers of ethnomusicology, he was a damned good recordist ! In this series we have been able to present many of the foremost musicians of the 20th century from the African subcontinent - and that is a gift. It is especially a gift to the peoples involved, for the legacy as played by their forebears belongs to them."
"Hugh Tracey made a couple of notable 'discoveries' during his recording trips - artists who went on to fame and fortune after being recorded by him. # 22 to 27 are bonus tracks by a 21-year-old Jean Bosco recorded on sunday morning February 3rd 1952."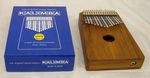 HT is also the creator of the Kalimba.