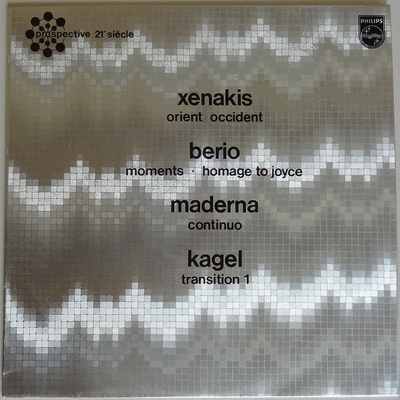 "Cet enregistrement doit être écouté à Fort volume et dans l'obscurité."
"This recording must be played loud in the darkness"
Side A : Luciano Berio, né en 1925 à Imperio-Oneglia, élève au conservatiore G. Verdi de Milan, études musicales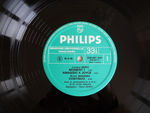 avec Dallapiccola. En 1955, il fonda le Studio de Phonologie de la Radiodiffusion Italienne de Milan. 01.Momenti 02.Omaggio A joyce
Bruno Maderna, né en 1920 à Venise, élève de Bustini et Malipiere pour la composition, et de Hermann Scherchen pour la direction d'orchestre. Co-fondateur avec Berio du Studio de Phonologie de Milan, il partage son activité entre la composition et la direction d'oeuvres contemporaines. 03.Continuo
Side B : Iannis Xenakis, né en 1922 à Athènes. Diplômé de l'Ecole Polytechnique d'Athènes.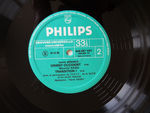 Etudes musicales à Athènes, puis à Paris avec Messiaen. Conjointement élève, puis collaborateur de Le Corbusier pendant douze ans. Quelques constructions sont dues à Iannis Xenakis, tel le pavillon Philips de l'Exposition Internationale de Bruxelles. 04.Orient-Occident
Mauricio Kagel, né en 1931 à Buenos-Aires. Participe depuis 1957 aux recherches du Studio de Musique Electronique de Cologne. Depuis 1959 dirige régulièrement les concerts de Musique Contemporaine de l'Orchestre de Chambre de Rhénanie. 05.Transition I