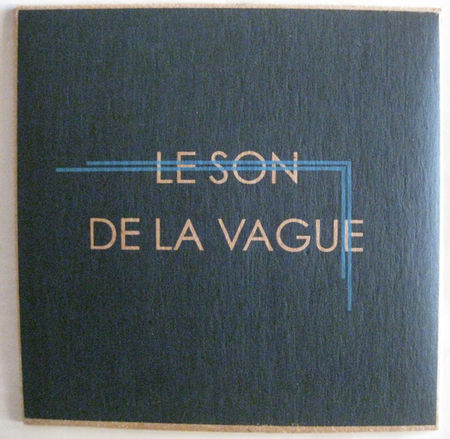 Today a contribution from Gilles Le Guen, a french dj and musician from New York band Denner. It's the fourth issue of a series produced by french silk-screen printer SuperHeights. This one is dedicated to the early cold wave/post punk scene from Brittany (north west of France), home of Marquis de Sade, Complot Bronswick and others. Gilles provided this comp with his own cassette collection (demos, bootleg etc...) he saved through the years. He started his first radio show called "Factory Wave" in Brittany, in 1983. Very rare recordings! You won't find them anywhere else. Enjoy.
"Le Son de la Vague" (in english "The Sound of the Wave") original homemade packaging was a 7 inches brown gatefolder" with 4 silk-screen printed plates on BFK Rives paper (no acid used, 100% coton, 250 gramms) of early 80's photographs by Gilles, inserted by silk paper and a text written by the selector. cd is a cdr. 50 copies have been printed and numbered by SuperHeights. Few of these deluxe copies are left and can be ordered at superheights@hotmail.com
"LE SON DE LA VAGUE / Cold Wave & Raretés Post-Punk, 1980-1985, Bretagne" est le volume 04 du Mix DJ Club édité par la sérigraphe SuperHeights en avril 2009. Chaque volume était livré dans une pochette "gatefolder" carton brun type 7" incluant 4 planches sérigraphiées sur papier BFK Rives, sans acides, 100% coton, 250 grammes, de photographies ou dessins réalisés par les DJ ou SuperHeights, intercalées par des feuilles de papier de soie, d'un texte du DJ. Chaque volume a été tiré à 50 exemplaires, numérotés par l'artiste.


Tracklist :
1. Words of Goethe . Live twice a life (1)
2. Warsaw Pact . I want a photograph (2)
3. Bunter Guillaume . L'esprit qui condamne
(émission Factory Wave, Radio Fusion, Guingamp, juillet 1983)
4. End of Data . 3ème porte à gauche (3)
5. Uniforms . Red horizons
(voix Marguerite Duras)
6. Splassh . Working
7. Meca Rythm . Interferences (4)
(Serge Gainsbourg, Apostrophe,décembre 1986)
8. Gogo No Eiko . Napalm opium
9. Picasso y los Simios . Meurtre
(émission t.v. Le Jour du Seigneur)
10. Franz Kultur et les Kramés . Ultime atome (5)
(interview Alain Cuny, France Culture)
11. Les Gymnopédistes . Hommage 1984
(extrait audio film Franz avec Barbara et Jacques Brel)
12. Réseau Komintern . New exit (6)
13. Les Stylistes . Afterlife (7)
(extrait b.o. film Vertigo de A. Hitchcock)
14. Des Rives . Codex maya (8)
(document t.v. mort Jean Genet, avril 1986)
15. Les Insulaires . Vertige
(générique serie t.v. Johnny Staccato avec John Cassavettes)
16. Dead Squad . History
(voix Boris Vian)
17. Electschlaffen . electschlaffen (9)
18. Les Suivants . art nouveau
(introduction concert Tuxedomoon, St Brieuc, janvier 1984)
"Ce cd est composé de morceaux extraits de mes K7 d'archives bretonnes de groupes locaux de la période 1980-85. De morceaux enregistrés en répétition, dans la cave parentale. De bootlegs de concerts de groupes jamais consacrés.Copies deuxième génération de démos de groupes mort-nés. Fruit de home-studios maltraités par de jeunes musiciens héros de leur propre aventure et du quatre pistes à bandes magnétiques ! Du fait à la maison. De sessions de nuit volées au studio, de rares instants de bravoure artistique et naïve. Séminal et vain... De démos qui n'ont jamais vu le jour de l'édition. Activistes "cold" de la première heure et combattants post-punk de l'ombre. Groupes condamnés à rester encryptés dans la K7 audio. Jamais ne voir le jour numérique... l'état de bande analogique!!! Encapsulés dans le temps par ces petits objets nostalgiques."
"Et puis, Il y avait cette maison abandonnée sur une île, chez moi, toujours en Bretagne. Elle était devenue le centre de mes pensées. Elle était comme un amer, une obssession, un prétexte à divagations et balades à la journée quand l'estran se découvrait. J'y avais pris vers 1983 cette photo noir & blanc de cet angle de pièce avec les deux fenêtres larges et béantes vers l'océan. Et d'autres clichés aux environs... Sur mon Walkman tournaient les K7 de mes groupes locaux favoris. Pour moi, c'était sûr : tout cela ne faisait qu'un! Le monde orbitait autour de cet endroit et de ces musiques. Parfois je rêve d'y retourner une nuit avec des amis. Et ce mix serait la bande-son de la célébration."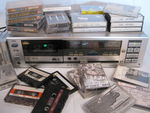 Cassette Culture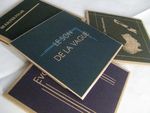 Les 4 volumes
ps : (1) Le guitariste de Words of Goethe est un certain Pascal Obispo.
(2) Tous les musiciens de Warsaw Pact ont ensuite formé End of Data, Prima Linea ou rejoint Complot Bronswick.
(3) C'est leur toute première maquette de juillet 83, End of Data s'est formé lors d'un boeuf en juin.
(4) Le chanteur de Meca Rythm est le deuxieme chanteur de Splassh.
(5) Franz Kultur et les Kramés vient d'être reedité en vinyle chez mémoire neuve.
(6) Reseau Komintern c'est en fait Bruno Green, aujourd'hui dans Santa Cruz.
(7) Le chanteur des Stylistes est aujourd'hui le chanteur de la STPO, la Société des Timides à la Parade des Oiseaux.
(8) Des Rives, c'est Reseau Komintern mais avec un autre chanteur. C'est le groupe qui a pris la suite de Reseau.
(9) Electschlaffen c'est le meilleur groupe que Brest ai connu ... dans l'indifférence générale, ou plutôt le rejet le plus total.