Ethiopia, Eritrea (on the north) in nowaday an independant country
Second post consacré aux musiques traditionnelle/ethnique/document sonore. On est rarement déçu avec la musique en provenance d'Ethiopie. Autant avec l'ethiojazz réédité dans la série éthiopiques, que par la musique purement traditionnelle.
Here 21 sounds I've compiled from CDs about traditionnal ethiopian music. Totaly amazing, from as if folk songto incredible vocalism
Surma Woman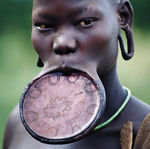 Do you know the Begena ? A kind of lyre you can find only in Ethiopia. His sound is very difficult to describe so hear it It looks like electronic manipulation. The whole Ethiopiques n°11 is about Begena as well as the cd of Zerfu Demissie realised by terp records the label of Terrie Hessels, guitarist of The Ex. Read what he says about begena taken from the booklet of Zerfu Demissie (clic to oversize):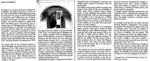 La légende veut que la begena fut donné par dieu au roi David de Jerusalem il y 3000 ans, si bien que cet instrument est aussi connu sous le nom de harpe du roi David.
one of my favorite :
DOWNLOAD ! if you've never heard such sound!